No more hot and uncomfortable nights.
Our New Hybrid Mattress will give you a Remarquable Sleep Experience, Refreshing and Regenerative Sleep.
Designed with a plush and moisture-wicking organic cotton cover, the "Serenity" LUXURIOUS Hybrid is climate regulating.
The cooling gel-infused foam allows heat to dissipate away for an ideal night's sleep.
The carefully designed construction offers both high-quality foam layers, combined with individually pocketed coils, so you will get Optimal pressure relief on your joints.
The strong base of firm foam-encased edge and pocketed coils minimize the impact of the movement.
Serenity Hybrid mattress characteristics:
Luxurious
Maximum comfort for all sleepers types
Breathable, balanced temperature distribution
Pressure relief
Medium -Plush
Height: 12.5″
Layers: 5
Designed to last
This very unique mattress is offered with  free natural latex pillows with organic cotton  cover ( value $ 280.00) (1 for Twin and Twin XL)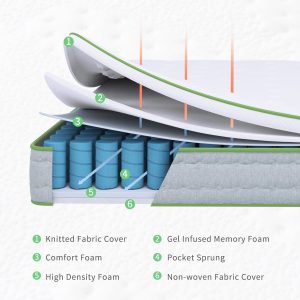 1 – Luxurious quilted top cover in 100% organic cotton knitted fabric ( GOTS Certified) is the summum in breathable protection and comfort 
2 – Cooling visco elastic gel infused foam disperses heat
3 – Plush high density foam provides premium pressure relief.
4 – Firm High density foam core maximizes support
5 – Contour- adapt pocketed coils with firm foam encased edge
6 – Side cover in 100% organic cotton fabric ( GOTS certified)  and grip base bottom cover
BOX SIZES:
( The weight is the one I gave for each box size, minus ~ 3 to 4 lbs for the weight of the box)
TWIN:    65 lbs  43 x 14 x 14
TWIN XL:  65 lbs  43 x 13 x 13
FULL:    78 lbs  65 x 13 x 13
QUEEN:  86 lbs  65 x 13 x 13
E. KING:  98 lbs  77 x 13 x 13
CAL KING:  98 lbs  77 x 13 x 13