The core principle of Bio Sleep Concept is to provide comfort and healthy bedding items to its customers through environmentally conscientious and sustainable business practices. Organic wool is one of the many raw materials that we use to manufacture our bedding items.
The process of obtaining organic wool starts from the way the sheep are taken care of. Wool is a very comfortable fabric and also acts as a natural insulator, helping you to sleep cooler during the summers and warmer during the summers.
Given that the wool does not develop cold or hot spots, you would not be tossing and turning all night and will sleep comfortably and undisturbed. There are many more advantages of using organic non-toxic wool mattress toppers and pillows for your home.
While there are many advantages of using organic wool, the definition and difference of organic textiles with the conventional ones are still unclear in people's minds.
What is Organic Wool and How is it Different from Conventional Wool?
Wool is a natural textile obtained from sheep, lamb, and llamas. The Organic Trade Association states that wool can only be given the organic certification if the production process complies with federal standards.
Federal requirements include:
All livestock forage and feed used from the last third gestation has to be certified organic
Prohibition of the use of genetic engineering and artificial hormones.
Prohibition of the use of artificial pesticides on pastures
Proper management and cultural practices that promote livestock health
According to the Organic Trade Association, there is two major difference between organic and non-organic livestock management. The association states that while conventional livestock management uses insecticides and parasiticides to control lice and ticks, organic livestock management uses a healthy diet and clean pastures to control parasites. Organic grazing practices lessen the stress on animals and improves their immune system significantly.
Organic livestock managers also need to ensure that they do not exceed the natural grazing capacity of the pasture the animals graze on. This limits the effects of overgrazing and ensures that it is a sustainable business practice.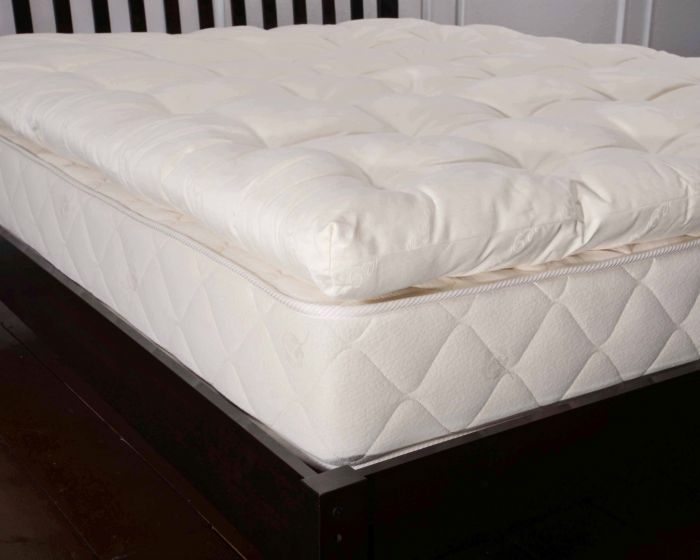 Why Sleep on Organic Non-Toxic Wool Mattress Toppers?
1. Organic Wool Mattress Toppers is Hypo-Allergenic:
Organic wool, in its natural form, is 100 percent hypo-allergenic as it can resist mildew, bacteria, dust mites, and mold growth. The scales in the wool fibers enables the fabric to self-clean and the natural ventilation wicks away allergens and moisture. This prevents dampness to take place – a condition in which the dust mites and mold thrive on.
2. Non-Toxic Wool Mattress Toppers are Chemical Free:
The manufacturing process of organic wool does not include the usage of toxic and harmful chemicals making the fiber suitable for people suffering from several allergies. These chemicals used in manufacturing conventional woolen mattress toppers can trigger allergic reactions and thus can be very harmful to the health of people.
3. Organic Wool is a Natural Insulator:
As mentioned earlier, wool can keep you cool during the summers and warm during the winter as it is a natural insulator. The wool fiber can absorb moisture efficiently, helping in the regulation of body temperature and making it comfortable for you to sleep in it all year long.
Thanks to wool's natural insulating capacity, mattress toppers made out of this material can be used on top of the organic mattress to keep you from tossing a turning all night, wool does not develop cold or hot spots.
4. Non-Toxic Wool Mattress Toppers can Regulate Temperature:
According to The American Sleep Industry Association, wool is a hygroscopic fiber, which means that it absorbs moisture in the vapor form. The natural ability of wool to absorb moisture and control the temperature helps in calming the heart due to low levels of humidity that the skin gets exposed to. This allows the skin temperature to stay at optimal levels, ensuring sound sleep at night. So, all you need to do is to put a non-toxic wool mattress topper over your organic certified mattress and sleep comfortably all night long.
5. Organic Wool is Naturally Flame Resistant:
Harmful flame retardant chemicals are used on conventional mattress fillers to help it withstand fire for approximately a minute. However, exposure to these chemicals has been linked to several health conditions even cancer. The American Sheep Industry Association states that wool is the only material that can naturally withstand flame due to the presence of a protein called Keratin. The moisture absorbed by the wool fibers, along with Keratin makes it difficult for the fibers to catch fire. Moreover, a protective layer of lanolin found in wool makes it naturally resistant to combustion.
6. Non-Toxic Wool Mattress Toppers are Durable:
Organic wool is a durable and flexible natural textile. As a matter of fact, the molecular composition of wool allows it to be stretched to up 30 percent in its dry state and 50 percent when its wet and still get back to its original shape when the pressure is released. This flexibility of the wool makes it durable and flexible. You can bend wool more than 20,000 times without breaking the fibers. Apart from this wool cannot be compressed and tear thanks to its chemical structure and elasticity. Its natural crimping makes it bouncy, comfortable, and soft to wear.
Why Buy Bio Sleep Concept Non-Toxic Wool Mattress Toppers?
We are committed to our cause of providing high-quality, organic bedding products to our customers to keep Earth safe and also to help it prosper. To achieve this goal, Bio Sleep Concept uses 100 percent organic wool sourced from Natural Felt and The Wool Gatherer, both independent branches of the Bio Sleep Concept Family. Click here to learn more about the wool we use for making Bio Sleep Concept products. We go to extreme lengths to ensure that the materials we use are eco-friendly, holistic, and comfortable.